Best Tips To Obtain AWS Certification Now!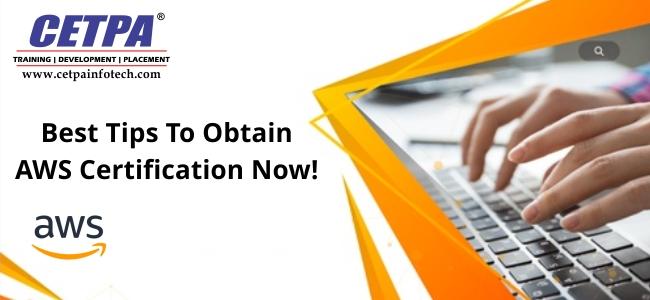 If you are a professional in cloud computing or if you want to build a career in this exciting field, probabilities are that you will want to learn Amazon Web Services, the most important and most used cloud computing platform around.
AWS services and technologies which include Amazon Simple Storage Service (Amazon S3) and Amazon Elastic Compute Cloud (Amazon EC2) are both extensively used and well known. With so many services available, it's simple to get surprised by the amount of information that you'll need to learn to be a skilled user. If you are just starting out with AWS, here are 3 tips to start learning Amazon Web Services and get certified in it.
TIPS TO OBTAIN AWS CERTIFICATION
AWS Training
One of the excellent resources for studying Amazon Web Services is Amazon itself. AWS offers a complete platform for mastering Amazon cloud services. On the AWS website, instructional videos provide a short introduction into how a service works, and labs offer self-paced practice.
In-person classes and workshops are also accessible in locations around the globe, and some online courses are available online. You can learn further about all the AWS training alternatives on the website. Another option is that you can enroll in any private company offering AWS Training.
If you do not have the time to attend regular classroom training, then you can also go for AWS Online Course. You can learn AWS at your own pace by joining online training class.
PRACTICE AND TEST YOUR SKILLS
There is no training without evaluating your knowledge, and Cloud Academy is the ideal platform for learning cloud computing skills and services and planning for AWS certification. AWS hands-on labs and Quiz sessions are also another great way to practice and test what you've learned.
If you opt for AWS Online Course, you will perform hands-on labs and you get to work directly in the AWS console to build AWS services with a step-by-step approach. You can select labs to learn basic operations which include creating your first Amazon S3 bucket or your First Amazon EC2 Instance on Linux or Windows, or more advanced labs like Automating EBS snapshots with AWS Lambda or running a controlled deployment with AWS Elastic Beanstalk.
Quizzes are a good way to examine your progress as you work to learn a new service or toward AWS certification. Quizzes adapt to your performance—the more you get right, the harder the questions become—and explanations are included for each question. They are ideal for when you only have 10-15 minutes to study and are particularly useful when you're planning for an AWS certification exam.
Build your Network
Once you have a solid knowledge foundation for Amazon Web Services, connecting with colleagues and peers is a great way to share ideas and create your network. If you live near to an Amazon User Group, then participating in their events and activities is extremely recommended. As an alternative, many online forums offer the chance to meet AWS experts. The official AWS Discussion Forums are best for this. With thousands of users and threads, it offers an abundance of information on a variety of topics. For more in detailed analysis, Amazon Tutorials and Article and videos on the AWS, YouTube channel is excellent resources.
Also Read: A Good Move For Cloud Computing Enthusiasts With AWS Online Training
Conclusion
Given above are some the ways by which you can obtain AWS Certification. For more details, you can check our AWS courses.