The Complete Guidance to Understanding AWS Certification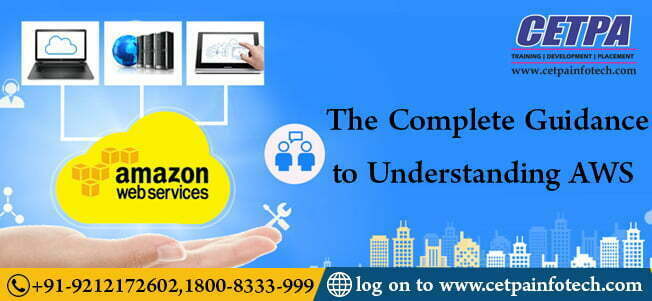 What Is AWS?
Amazon Web Services (AWS) is a Cloud Infrastructure-as-a-Service (Cloud IaaS) platform that offers data storage, computing power, and other IT solutions and services for businesses. Started in 2006, AWS has become one of the most popular cloud platforms available.
With the help of AWS, Amazon has made it feasible for organizations to decrease the need to build and maintain private, on-premise infrastructures. Rather, users only pay for what they need, building a more scalable model without the management overhead of hosting the same architecture on site.
CETPA INFOTECH is one of the leading training institutes delivering AWS Training in Noida sync with industry needs. Through this training, you will gain knowledge in the fundamentals of AWS cloud computing and gain proficiency in identifying terminologies and concepts in the AWS platform. You will also learn to navigate the AWS Management Console and gain expertise in using services like EC2, S3, RDS, and EBS.
Apart AWS Sets 
AWS has over 90 services including Amazon VPC, Auto Scaling, Elastic Load Balancing, AWS Lambda, Amazon Route 53, Amazon ECS, and at the core, Amazon EC2.
Basically, AWS has made it possible for businesses to affordably to shift their whole data center to the cloud, indicating there is no longer a requirement to build data centers on site. This limits the massive costs of data center builds and operations. Moreover, IT professionals no longer have to bother about implementation, networking, integration, and everything else that comes with creating a data center.
You Interested Read Now: Ways to Reinvent Your AWS
Advantage of AWS (Amazon Web Service)
Minimize overhead for maintenance, investment, and management.
Offer resources that are reliable, and always globally available.
Improve productivity by providing the appropriate tools.
Assure security with modern cloud security measures.
Enhance scalability.
Cetpa Infotech AWS Training is designed to make you a certified AWS Developer, AWS Administrator, by providing you rich hands-on training on AWS Ecosystem. This AWS certification training is stepping stone to your career journey and you will get the opportunity to work on various AWS projects. You can join CETPA INFOTECH whic is the best AWS Online training in Noida.
 13 Usage Of AWS
Usage of AWS can be broke down into 13 broad categories which its services fall into. Those include:
Compute:
Storage:
Data management:
Migration
Networking
Development tools and application services
Management and monitoring
Security
Analytics
Artificial intelligence
Mobile development
Notifications
Productivity SaaS business offerings
How Do I become An AWS Engineer?
It's hard to ignore that more companies are switching from the classic server infrastructure to cloud solutions, and IT professionals who are unfamiliar with cloud computing run the risk of getting left behind.
Tech professionals interested in becoming an AWS engineer should join AWS training in Delhi and see what skills are required in order to manage AWS instances.
From a career point of view, those with strong AWS knowledge can set themselves apart as a job candidate or an irreplaceable team member. Data from Forbes indicates that those who have the AWS Certified Solutions Architect certification make $125,871 on average. There is a huge Scope of AWS and for more information, you can read the blog mentioned blog-
To learn more about AWS, How to became a  Well- AWS Architected?
 Conclusion
Cloud computing and services like AWS are the future of business. AWS in particular, with its different offerings that offer savings, scalability, and security, have become a backbone of organizations both large and small.
AWS has become a highly convenient and powerful tool for those who use it. Professionals who join, AWS course in Noida Will learn to work with AWS reap the benefits of being both a sought-after and highly paid professional, able to expand their expertise into a number of areas using this technology.