5 Global Trends That Will Affect Data Analytics & Data Science in 2019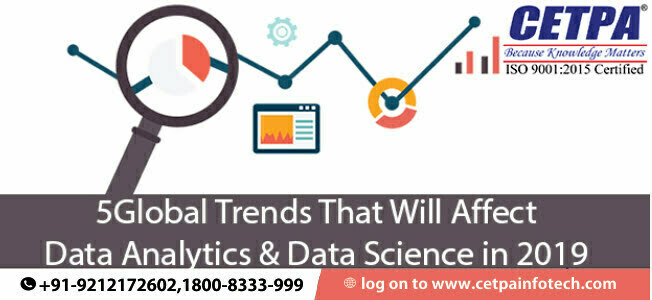 Data analytics and Data Science have become the backbone of the business. Now that data and analytics are essential to business and deeply rooted, the question is whether the technology will expand and mature in 2019, be replaced by something else, or continue to reshape companies in different and interesting ways.
Let's look at some of the trends that will affect Data Analytics & Data Science in 2019 as Follows:
1. Analytics Is Becoming an Experience
Unlike business intelligence efforts of the past, analytics of the future will be a contextual experience. Analytics is now as much about how information is received and consumed as it is about the message to be delivered. A high degree of personalization based on context is becoming a crucial perspective of any analytics program. To learn how to do so, join data science online course
2. Mobile Device Use Grows
As the device quantity increases to include watches, mobile phones, in-car displays, glasses, digital personal assistants, and even video gaming systems, the end consumption point becomes more essential in the delivery of impactful analytics. With multiple devices per person, the content must be personalized not only by the user but also by the user's device characteristics.
3. Location and Time of the User
Efficient analytics is beginning to consider the information consumer's time of day and location to optimize the user experience. For instance, the time zone of the recipient is now more valuable than the time zone of a report creator.
Must-Know: Facts you should know about Data Analytics
4. Continuous Analytics
Analytics programs of the past were successful when they could deliver results in days or weeks, but the future will reduce these windows to hours, minutes, and seconds — perhaps even milliseconds.
The end user's wish to have information more promptly puts stress on analytics teams to decide how much analytical processing and refinement is enough. You must decide whether simple processing that can be delivered in seconds is sufficiently effective or whether complete processing that takes hours or days is required by joining a data analytics course.
5. Augmented Data Science
The arrival of the citizen data scientist will not reduce the need for a data scientist who investigates the data to find productive opportunities for business growth. As these dedicated data scientists allow citizen data scientists to take over the simpler work, their analysis becomes both more challenging and potentially more valuable to the business.
If you want to learn more about Data analytics or Data Science Training in Delhi and its trends, then join the Data Analytics Training Company in Noida at CETPA.
CETPA is an ISO 9001: 2015 certified training company that provides live project-based training with assured placement assistance.