Few Ways You Trust Machine Learning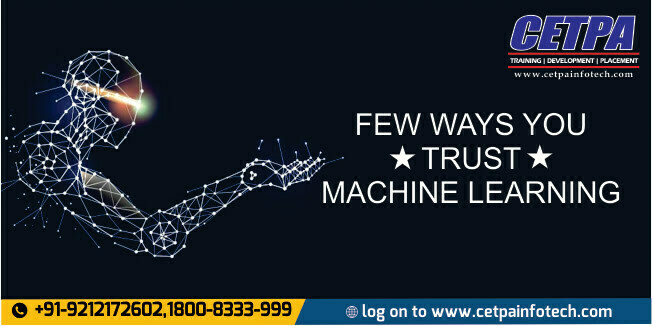 With the entire buzz around machine learning, artificial intelligence, and big data, industries are now growing curious about the benefits and applications of machine learning in business. ML is a data analysis technique which leverages ML algorithms to iteratively learn from the current data and help computers find deep insights without being programmed for.
Many people have heard of ML, but do not actually know what exactly it is, what business-related queries it can solve, or the benefit it can add to their business. Applying algorithms that continuously assess and learn from data, machine learning allows computers to access hidden insights. But, discoveries happen without programming systems to explicitly look for these digital treasures.  In this article, we will look at some of the ways how and why we can trust Machine Learning.
Predict consumer behavior: Machine Learning is adopted by enterprises across the globe to foretell customer behavior and covert the predictive insights into prescriptive insights to improve the customer base or provide them with excellent services. By looking at buying patterns and surveying through purchase histories, retail corporations can offer the best-customized product or service to individual customers and improve demand forecasts.
Product Recommendations: In e-commerce, ML algorithms can be used to motivate product purchase. Matching with a large product inventory, ML can be used to identify hidden patterns and group similar things together. These products can then be suggested to customers. If you want to learn more about how ML provides suggestion on products, you can opt for Machine learning training in Noida.
Improving marketing strategy: ML can churn extensive amounts of data in real-time to make it more important and useful. The data collected from customer behavior analysis can be applied to make important changes to a company's sales and marketing strategy involving cross-selling as well as upselling. Furthermore, record sales can be reached via recommendation engine deployment and real-time targeted advertising can also be generated on websites.
 Data Entry Support: Machine learning algorithms and Predictive modeling can help streamline an organization's documentation method eradicating the risks associated with manual data entry. The formula can be used to automate the data entry method and eventually let the skilled resources concentrate on critical and creative tasks. You can learn more about it by machine learning training in Delhi.
 Financial review: Fraud detection proves to be a chief hindrance in the finance area these days. Organizations involve a tremendous skilled humans team to detect frauds in their company and their method is not just expensive but also time-consuming. ML can help not just find but also predict fraud in a huge volume of transactions by applying cognitive computing technologies to raw data. In the monetary portfolio, ML can also help in investment predictions, improve customer service, risk management, and deploy digital assistants, and loan management and security measures among other things.
Read More- Is It Time To Talk More About Machine Learning?
 Machine learning allows analysis of massive quantities of data. While it usually delivers faster, more reliable results in order to identify beneficial opportunities or dangerous risks, it may also need additional time and resources to train it properly. You can learn every trick and tool of ML by machine learning course in Noida. Blending machine learning with AI and cognitive technologies can make it even more efficient in processing large volumes of information. Now we all know how much machine learning important Nowadays then we should talk more about machine learning.