Exploring about Digital marketing? 5 Reasons to Join Digital Marketing Training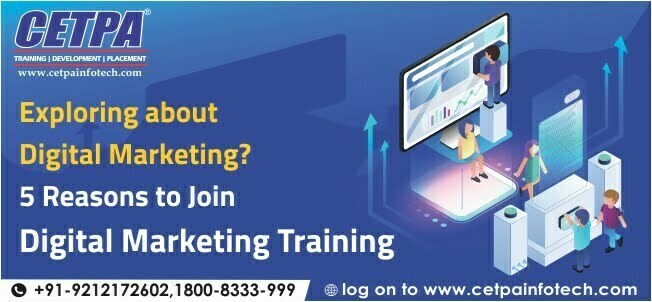 WHAT IS DIGITAL MARKETING?
Digital marketing covers all marketing efforts that use any kind of electronic device with the internet. Businesses make use of various digital platforms such as media, search engines, social electronic mail or e-mail, and their websites to connect with current and potential customers. Here are some general areas that a digital marketing professional will likely touch on during their Digital Marketing Course in Noida or career:
Search Engine optimization (SEO)
Search Engine marketing (SEM)
Mobile Marketing
Social Media
Content Management and Curation
Email Marketing
Web development & Web design
Copywriting and Editing
5 REASONS WHY YOU SHOULD JOIN DIGITAL MARKETING TRAINING?
Given below are some of the reasons to consider career in Digital Marketing:
1. The Industry is Always Evolving: As the industry evolves and changes, there's constantly something new and fascinating to learn. Since there will always be all types of specialists working in a given agency, you'll likely be working beside professionals with different backgrounds, with everyone having to come together to build marketing plans.
2.Versatility: If you select a career path or specialization in digital marketing and you select to turn later, you'll possibly only need a short training in order to make the switch. There are a lot of choices, here, and ongoing learning possibilities, where various skills fit together in different ways.
3. Work with Different People Every Day: You're constantly going to find something distinct to do in this domain- and have someone new to talk to. Whether it's a colleague new client, with an exciting specialty, or finding entertainment ways to engage and expand your audience, anyone with an interest in working with people will do well in the social and business end of this career.
4. Quick growth opportunities: Unlike other sectors, digital marketers need not wait for years to climb up the success ladder. They can easily get promotions with the help of their creative skills and innovative mind. Growth in digital marketing is quick and long-lasting.
5. Open for candidates from all backgrounds: Digital marketing is the only field where even housewives can enter and make money. No matter whether you are still in college or are a retired person as you can join digital marketing by doing a short course.
DIGITAL MARKETING TRAINING AT CETPA       
CETPA, the Best Digital marketing company in Noida provides live project based training program in sync with industrial needs. CETPA is the official training partner of big brands like Microsoft, Panasonic, Autodesk and many more, so you will be getting the international certificate after completion of your training. The company will also provide you assured placement assistance after completion of your training.