Here's everything one should know about Python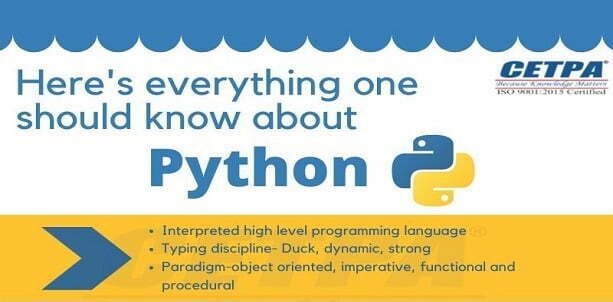 What is Python? What are the advantages of Python? Is it necessary to get Python online training? We are going to answer every question you have about Python today! So, if you don't know already, Python is one of the oldest programming languages in the tech world. 
After being in the dormant state for a long time, it is back in the game and is outshining all the other programming languages! Python is now the most preferred programming language by the tech industry. 
It is easy to learn, embeddable, highly flexible, concise, simple, and readable. Consequently, if you want to excel in the world of data science, python online training is a must-have qualification. Moreover, it is also dominating Artificial Intelligence as well as Machine Learning programming currently. 
But you might be wondering, what is Python? 
Python is essentially an object-oriented advanced-level programming language. It can efficiently amalgamate different systems as well as increase the developer's work speed drastically. 
Moreover, Python is also a fast-growing as well as a fast learning programming language. It is exceptionally easy to work with and supports various programming domains including functional programming, procedural programming, and OOP. Python was developed by Guido van, and it was first released in the year 1991. 

To Sum It Up 
Instagram, Google, Yahoo, Youtube, Spotify, and almost all the big corporations use python. Hence, learning python opens up numerous opportunities. As mentioned above, the demand for python developers is at an all-time high right now. However, the supply of the same is extremely low, especially in India. 
To meet the demand of the current market situation, more people need to get Python online training. And if learned properly, securing a lucrative job in the tech sector is going to be very easy for you. Moreover, it does not matter whether you're working in corporate or freelance, you'll only get high-paying job opportunities. 
Also Read : Top 5 Steps to Start Your Data Science Career with Python
Python is popularly known as the "Swiss Army Knife." of programming languages because of its versatility. It is simple and easy to learn, unlike other programming languages, and can be used for machinery, web processing, and even biology.
It would be unfair to say that python is confined to data science or artificial intelligence only as it can be used in numerous other fields. These include finance, training, web development, system automation, game development, security, mapping, as well as computer graphics. 
Another significant advantage of python is that it is highly secured. Currently, it is one of the most secure computer programming languages. This is so because of the OWASP Python Security Project which makes python far more resistant to attacks as well as manipulations. 
So, if you've placed your tiny little heart on python training in Delhi, you have made a brilliant decision as it does offer tremendous career opportunities. Python is used in automation, scripting, web scraping, web development as well as data science hence you've got a lot to focus on. 
Furthermore, once you've done a python online course, you can work as a software developer, python developer, research analyst, data analyst, data scientist as well as a software engineer in various big corporations.
Also Read: What Are The Benefits of Pursuing Machine Learning With Python