How Python Provides The Best Career Opportunities?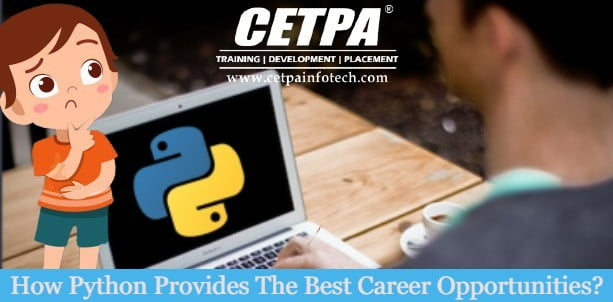 It's no news that Python is one of the oldest programming languages in the tech world. Because of Java's immense popularity, Python always remained in a dormant state. However, things are changing rapidly in the world of technology and IT professionals are finally starting to recognize Python's true potential. Consequently, it is surpassing all the other programming languages since 2010.
It's growing at a fast pace and has become the most preferred programming language by the tech industry. Python is easy to learn, highly flexible, concise, simple, as well as readable. Python is currently dominating Artificial Intelligence, Machine Learning as well as data science programming. Moreover, if you want to venture into the world of data science, learning Python is of utmost importance.
Let's begin with, what is Python?
Python is essentially a high-level object-oriented programming language, precisely like Java. It is a fast-growing as well as a fast learning programming language. Python has the ability to efficiently amalgamate different systems and appreciate the developer's work speed drastically.
Furthermore, Python is exceptionally convenient to work with and supports various programming areas like functional programming, procedural programming, and OOP. Guido van Rossum developed Python, and it was first released in the year 1991.
Also Read: Top 5 Steps to Start Your Data Science Career with Python
What Are The Benefits Of Learning Python?
High In Demand and High Paying: Python developers are needed not just in India but also in the US. Furthermore, it is the second most compensated programming language. Professionals who have excelled in the python language earn from $118,626 to $162,223 every year.
Easy to comprehend and flexible: Python is simple and easy to learn. It is not complex like other programming languages and it is not difficult to understand. It is also versatile as it can be used for machinery, web processing, and even biology. This is why it is also called the "Swiss Army Knife." of programming languages.
Used in Numerous Industries: Finance, training, web development, data science, system automation, game development, security, mapping, computer graphics, and the list goes on. Honestly, there are way too many industries in which python can be used. So, it's safe to say that it is not confined to data science or artificial intelligence only.
Highly Secured: As of now, Python is one of the most secure computer programming languages. This is so because of the OWASP Python Security Project making it far more resistant to attacks as well as manipulations.
The Reality of Python's Career Prospects
Nobody can deny the fact that the demand for Python developers in India has been increasing tremendously. However, the supply of the same is extremely low. There are few people out there who know the A to Z of python. Hence very few people are skilled in this object-oriented programming language.
To meet the demand of the prevalent market situation, more people need to learn python. The best option right now would be to opt for an online python training course. Since there's a wide availability of jobs in the field of Python, learning it from a certified institution in Noida  would give you highly rewarding perks.
You can also work as a freelancer after completing your python training, as there is a huge requirement for Python developers all over the world and not just in India. So whether it's corporate or freelance, a certified Python developer gets ample lucrative opportunities everywhere.
So, if you've placed your tiny little heart on learning python, you have made a brilliant decision as it does provide great career opportunities.
Once you become a master of python, you can work as a software engineer, python developer, research analyst, data analyst, data scientist as well as a software developer in various big corporations. Companies including Google, IBM, Nokia, Yahoo, and Walt Disney Feature Animation (WDFA) also require working professionals who have ample knowledge of Python.
I hope this helps
Have a great day!