Top 7 Skills You Need To Become A Successful Web Designer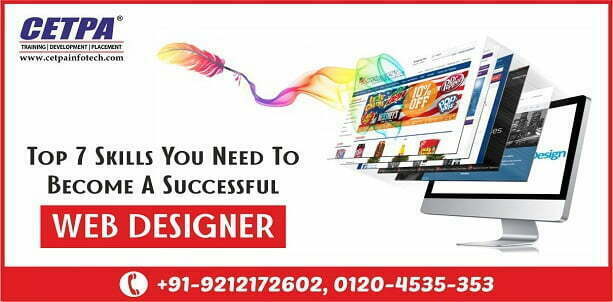 This is the digital age. There is absolutely nothing that is not available online. From connecting with the world to business, everything can be done online. Consequently, because of the rapid emergence of the digital world, career opportunities have increased tremendously. Creating and developing content online while keeping the website user-friendly is getting difficult day by day.
And this continual change has affected web designing as well, for obvious reasons. The sectionalized and conventional methods of designing that used to develop professional and robust websites have become obsolete. As new technologies emerge, web designers must adapt online web designing course quickly in order to be successful in the modern web designing world.
As a web designer, you're supposed to be an expert of both, the front end as well as the backend designing procedures. You should be able to handle both areas skillfully, efficiently, and effectively. Moreover, you should be able to use your analytical and creative skills at the same time, if you want to be a successful web designer.
Here's a list of the top seven skills you need to become a successful web designer:
1. Familiarity with UX: UX essentially stands for user experience. It is the various emotions that people feel when they visit a particular website. UX for web designing can be described as designing according to a user-first perspective, that is designing a website that serves the purpose of the target audience.
To do so, you need to research your target audience, their personalities, etc. You will also need to know the path users opt for on your website. You'll also need to use tools like grid systems, type hierarchy, color psychology, and web fonts.
2. Learn CSS and HTML: HTML short for Hypertext markup language and CSS short for Cascading style sheets are very important for web designing. But why? Because both HTML and CSS are the foundational bricks upon which websites are built. HTML provides structure whereas CSS provides style.
Hence you should be familiar with these two, in order to venture into the world of web designing. These languages let you edit and read pages, at your convenience.
3. Gain Knowledge About Designing Tools: Possessing a basic understanding of designing tools is an obvious yet crucial requirement. These tools are the fundamental platforms used to create and design websites. You should also know how to employ the right tools at the right time. You should also be familiar with visual designing as it is an integral part of web designing.
Also Read: Give an Edge to Your Career With Web Designing Professional Learning
4. Know How To Manage Your Time: It does not matter if you're under a company or a freelancer, you should know the value of time. Meeting deadlines and scheduling work effectively is highly essential to make progress in any field. So you should know your productivity levels, as well as get a hold of tracking tools.
5. Enhance Your Communication Skills: There is no work without effective communication. Hence, as a web designer, you should be able to express your concerns constructively. You need to keep your co-workers and clients up to date with projects assigned to you. Ask questions, explain your designs as well as creations and put your points across whenever necessary.
6. Know The Core Concepts Of Digital Marketing: As a web designer, you're going to be an essential part of every digital marketing strategy. Therefore, knowing the various components of digital marketing is bound to benefit you.
It's important to know the concepts of digital marketing including social media marketing, search engine optimization, etc as it will enable you to test your website and resolve any conflict if it arises. You can also reach more customers through these mediums.
If you want to learn digital marketing, CETPA's online digital marketing course is the best option. Their online digital marketing course familiarizes you with all the core concepts of digital marketing.
7. Know How To Manage Your Clients: You should have a precise understanding of the goals and objectives of your clients so that the final product that you deliver is in sync with their requirements. Not only will this information guide you better but will also ensure that the deals are fruitful on both ends.
And, here's the ultimate bonus! You need not browse twenty different courses to acquire the aforementioned skills. CETPA's online web designing course teaches you all the skills that are necessary to be a successful web designer. Their web designing training in Noida is the best course available currently!