How Live Project Based Training Can Boost Your Career?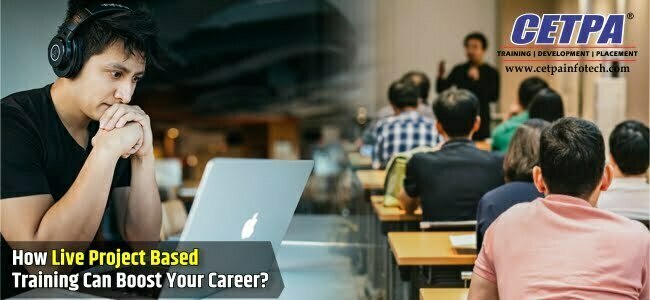 Our economy is changing every day, and with it, the skills, talents, and experience required to be a part of that growth cycle are too. The job market is a competitive one, and usually, that is a difficult learning curve for recent graduates. This is an important reason behind the growth of online Training Programs and Internship opportunities becoming a pivotal part of the college/university experience for all students.
The most essential element of the Live Project Training Institute in Noida program is that they blend classroom knowledge and theory with practical application and skills developed in professional settings. They also bring lots of benefits to learners, both while completing a degree and while seeking a career path.
How to Choose the best Live Project Training?
Firstly, you need to find out your interest. Just because someone suggested you should learn a skill, you shouldn't go for it. Assure that you are interested in what opt for or pursue, not just in summers but in your life. The subjects, fields, and domains that interest you will help you to learn with passion and you'd be able to excel in it.
Importance of Live Project Based Training are:
Gain Experience: Online Live Project Training gives an experience in the career field which you want to pursue. It helps students to become experts in their field and increases confidence.
Career Exploration: These training programs are a great way to apply knowledge to the real world. Learning and executing things practically helps to examine the career paths and interests.
Practice On New Skills: Live Project Training in Delhi creates some self-learning channels through which students can learn and advance in the technology. Self-learning plays an essential role in every learners' life through which they can improve the capability of learning.
Also Read: Easiest Way to Learn Six Months Project Based Training
Live Interaction: These training programs provide the opportunity of Live Interaction, that the students get to interact with trainers through online medium. The students get less training and can handle more responsibilities of the environment.
Improvement in soft skills: Online Course provides the opportunity to improve the soft skills and enhances and develops the knowledge. Live Project Training in the period where students concentrate on soft and practical skills and deal with development.
CONCLUSION:
In the current cut-throat competition, you require to be one step ahead of your co-workers and classmates. There is certainly no shortage of talent. Hence, you need to acquire skills that are not just in the market but also help you develop professionally. With just a degree, you may not be able to grab the job that can help you achieve your and your parent's dreams. Live Project training adds value and provides you the edge over others, this is what you require.