How To Boost Your Business Through SEO?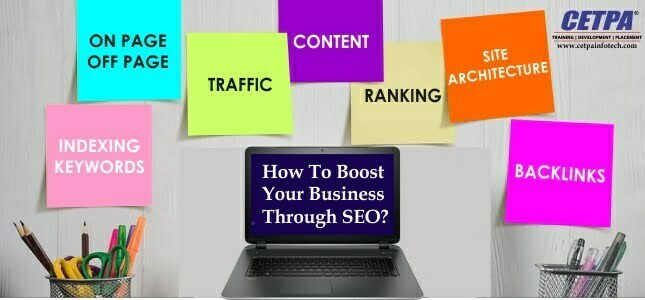 SEO is one of the most effective techniques used to increase traffic on your website. Search Engine Optimization (SEO) is a set of tools and practices that make your website rank high in search results. Your website will appear in more relevant searches, which will eventually aid in business growth. To learn more about this, you may enroll in a course for SEO training in Delhi.
Good SEO practices require you to be aware of how a search engine works so that you can focus on correctly reaching your target audience. If your website is indexed and ranks on the first page for your desired keywords, you will start seeing for yourself how beneficial SEO training program.
A Few Ways to Boost Your Business Through SEO:
Use appropriate keywords
Search engine optimization is mainly based on keywords in your content. If you use the right keywords, your website will appear in relevant searches only.
While conducting the research, place emphasis on long-tail keywords. Keywords with 3 or more words are called long-tail keywords.
Short-tail keywords are not descriptive enough and will not reach your targeted audience. They are generic and vague. On the other hand, long-tail keywords are more detailed and provide an exact description of your business.
To understand what keywords are good for your business, conduct keyword research. You can understand this better by contacting firms for SEO training course in Noida.
Earn Backlinks
Earning backlinks is a way to improve your site's SEO ranking. A backlink is just one website providing a link for another website.
If you create and publish fresh content on your website, other credible websites in your domain may provide a link to your content on their website. When credible websites make recommendations, it holds a much higher value. This will direct more traffic to your website.
You may reach out to larger companies and request them to take a look at your content. Content creation is an effective measure to earn backlinks.
If you are able to produce valuable content consistently, you can expect a good number of backlinks to your website.
Content Creation
Creating content, we do not just mean text. Content could be in any form – blog, podcast, video, or infographics.
Content creation makes your website more engaging. Apart from earning backlinks, good content pulls up the ranking of your website too.
Your audience is always looking for information, solutions to the challenges they face. If your content is catchy enough and specifically provides what they are looking for, your audience is definitely coming back for more.
Good content also leads to higher on-site time and better traffic.
Must Read Now: Is SEO dead in 2020?
Keep Your Page Updated and Make Sure it Runs Fast
Make sure that the information on your page is accurate and up to date. Also, make sure all the links on your page are working correctly.
Your site should load within 3 seconds or less. Otherwise, people will most likely leave the page and choose a different site.
If many people click on your page and leave it before it loads, your bounce rate will be high. This will lower your site's ranking.
For better user experience, maintain an optimal speed for your site.
Keywords, page speed, content quality, and backlinks are one of the most important factors that directly affect the search engine ranking. Today, an online presence is not only enough to boost business, SEO is the key to the success of your business.