How to grow as a Beginner in Cyber Security Industry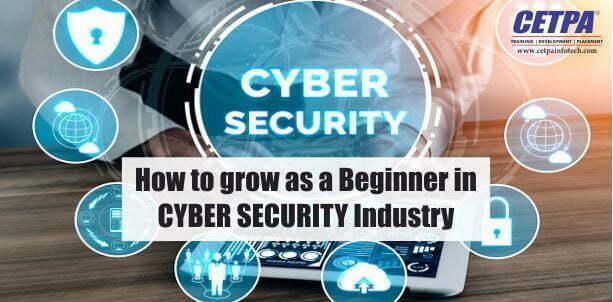 As the digital age is tempting, and offices, hospitals, and institutions, businesses are operating online. So protecting systems from hackers so that they can't steal your data and because this can cause you a big loos like it can down your website. So, protecting your system server or network is necessary and the method of protecting computers, mobile devices, servers, networks, and data, electronic systems, from harmful attacks, is known as cyber security online training. It's also referred to as electronic information security or information technology security.
Becoming a cyber security expert can benefit your career and there are some tips by which you can survive as a beginner in the cyber security course industry and following all these tips can make you an expert in the cyber security training industry.
Tips to grow as a Beginner in Cyber Security Industry-
● Make the first move in cyber security training-
Employers are fond of self-starters. Look into the many textbooks and courses offered on cyber-related skills that might help you improve your resume, such as reverse engineering malware and tracking dangerous internet activity. Organizations need candidates that have a baseline set of skills and knowledge to develop into skilled cybersecurity online training engineers and detectives through self-study and team-led reinforcing of those skills.
● Start studying and preparing for cyber security course –
Getting a certification in cyber security will be worth it because. What you spent in the study will come back to you as a big career opportunity. Enroll in the cyber security certification.
● Coding
learning the basics of coding is compulsory to grow as an expert in the cyber security industry Understanding the fundamental values of coding/scripting in languages like javascript HTML and can help you comprehend how programs and webpages are built, as well as how cybercriminals exploit them. You can also learn to write Shell, Bash, and Python scripts that will be utilized to automate fundamental procedures in future employment.
● Maintain a flexible mindset –
Many cybersecurity training professions are sophisticated, but others aren't at all. Professionals with a wide range of abilities are needed in the cyber security training field, including communication, interaction, leadership, investigative, and commercial understanding. The most challenging difficulties in cyber security courses are related to people's leadership and teamwork, and risk management at the most strategic level.
● System knowledge is important for cyber security courses-
Security is the heart and blood of the industry. Study the distinctive properties of major operating systems and become familiar with a command-line interface such as Linux's Terminal or Windows' Powershell to understand whatever you can regarding desktop and mobile systems.
Also Read: Best Cybersecurity Certifications To Boost Your It Career
● Networking plays an important role in cyber security courses-
Business Companies use a variety of networks in their daily routine. If you're not seeking a professional administrator role, learning the subtleties of how to install and manage WAN ( wide area networks ), LAN (local area networks ), and virtual private networks (VPN) will help you further.
● Applications-
Computer programs and other applications are fundamental instruments for businesses, so you'll come over them. By learning how to run, design, and keep up with common applications such as databases and web servers, you'll be superior arranged to make strides in the security of applications by testing vulnerabilities amid advancement and sending.
These are the basic skills you need to know as a beginner these tips help you to grow as an expert you need to do cyber security training and need to know the theoretical and practical concepts of the course. For this, you have to learn all the concepts from industry experts. You have to find the best training institute for cyber security online courses.
● CETPA is the best cyber security training institute in Noida.
● CETPA's Cyber security course content is totally industry-based so that you can learn well.
● CETPA provides you with live lab exposure.
● CETPA is the leader of high-end training.
● Enroll in cyber security training and get trained by industry experts.