How To Make A Successful Career In The Promising Artificial intelligence Field-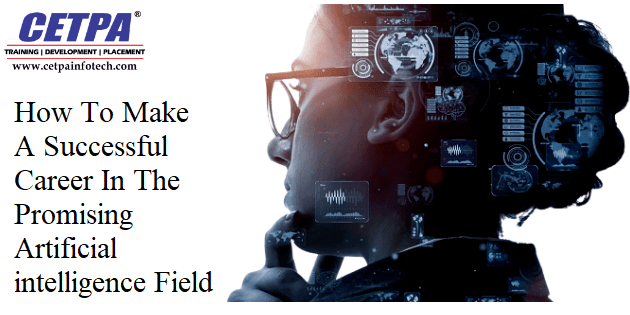 Artificial intelligence (AI) is the study and development of intelligent computers capable of doing jobs normally performed by humans. To make a successful career in the Artificial intelligence field, you must be familiar with these facts so that when you go out in the real world, you can work prominently without any destruction or problems.
How to make a Successful career in Artificial Intelligence –
● Programming Languages –
In computer science, Programming plays a vital role in every IT field, and in Artificial Intelligence training the knowledge of programming languages is an essential part. To start your journey in artificial intelligence training , you should start learning the most important programming languages like Python, Java, R, and c++. If you don't know how to make computers do things for you then how will you become an artificial intelligence training expert? So with the help of these programming languages you give instruction to the computer, you can create different kinds of complex algorithms with the help of programming languages and make your computer start following your instruction. If you learn these things then you can learn artificial intelligence online easily, because artificial intelligence training is nothing but an advanced form of this.
● Mathematical skills:
You need to have a strong understanding of mathematical concepts, applied mathematics, and algorithms to qualify for a position in artificial intelligence training. The task will require you to use your analytical skills and knowledge. As a result, you will have difficulty finding the best solution without a correct understanding of mathematics. For those who are sure of their goal of becoming an artificial intelligence training professional, they ought to highlight essays and other papers that are related to this field so they can learn faster.
● Statistics and probability:
Probability and statistics are the two main components of artificial intelligence online training. To predict what's required and modify consequently, you have to recognize patterns and trends. Statistical tools and probability theories are necessary for artificial intelligence developers to make their outputs effective.
Also Read: How Does Artificial Intelligence Learning Help To Find Your Career Goals?
● Quick Learning and Flexibility:
Data collection and analysis, along with artificial intelligence development, will require you to utilize a variety of sources. IT developers should be capable of handling multiple projects simultaneously. Students should also have a short training time, allowing them to quickly accept new methods when they are presented. This means to say that if a company is offering a different task that is not under your control still you have to do that and make yourself capable.
● Multi-tasking and expertise with a variety of computing tools
Those who develop Artificial intelligence work closely with data scientists and analysts who gather data from a variety of sources. Simply put, there are too many sources of information out there for anyone to rely on. So, in order to become an artificial intelligence training expert, one should be able to use a variety of tools and data collection methods, as well as multitask and manage multiple tasks at once (or screens). As we know that tools are the most important things you should remember in any field, because if you are using Microsoft and don't know how to use its paint tool, shape tool then you can't do the work in short intervals of time. So just like that if you are working with AI training then you should familiar with its tool and properly know how to use it and when you have to use that:
These are the tips with which you can make a successful career in the promising AI field and artificial intelligence training is always be in the demand due to the growing technologies in the world and tow become an AI developer you should know more things about artificial intelligence training, so that you can work like a expert and for this we will suggest you that you can go with the no.1 training institute and you must know that CETPA is the no.1 training institute for the Artificial Intelligence Training In Noida.
● CETPA best presents their course with new modernized technologies and 1-year free membership for their learners.
● CETPA delivers individual certificates for project work on company letterhead, after the fulfillment of the project.
● IT'S the only organization that delivers online certificate validation.
● Free of cost and PD training will be provided to all the six months registered candidates.