All About Industrial Training – It's Importance, Objectives, Outcomes And Conclusion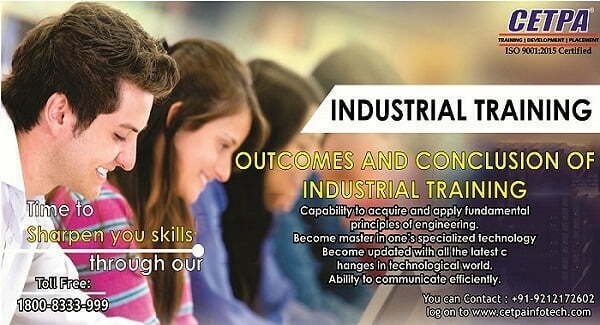 All of you are familiar with the term "6 months Industrial Training."  It is an organized method or activity of enhancing and improving skill set and knowledge of engineering students which boost their performance and consequently helping them to meet their career objectives. 6 months training in Noida is crucial for students because it is the best way to acquire as much mastery about their field as possible which helps in building confidence of the students. Training helps learners to acquire the latest techniques, skills, methodologies and to build a strong foundation for their career growth. In a nutshell, we can say that it helps in boosting career of students, since by the end of this training; students are turned into professionals in their specialized area.
Objective Of Industrial Training
6 Months Industrial Training is imparted with the following objective in mind-
To provide comprehensive learning platform to students where they can enhance their employ ability skills and become job ready along with real corporate exposure.
To enhance students' knowledge in one particular technology.
To Increase self-confidence of students and helps in finding their own proficiency
To cultivate student's leadership ability and responsibility to perform or execute the given task.
To provide learners hands on practice within a real job situation.
Read More: CETPA Infotech- Best Training Company Of North India
Outcomes And Conclusion Of Industrial Training
Capability to acquire and apply fundamental principles of engineering.
Become master in one's specialized technology
Become updated with all the latest changes in technological world.
Ability to communicate efficiently.
Knack to be a multi-skilled engineer with good technical knowledge, management, leadership and entrepreneurship skills.
Ability to identify, formulate and model problems and find engineering solution based on a systems approach.
Capability and enthusiasm for self-improvement through continuous professional development and life-long learning
Awareness of the social, cultural, global and environmental responsibility as an engineer.
CETPA INFOTECH, the best 6 months Industrial Training Company provides training in new and latest and emerging technologies with a combination of theory as well as practical classes. The objective of their training program is to enhance knowledge of the students on any one of the Trending technology according to the industry standards without which the student degree is a mere degree. This is done by making students work on live projects which equip them with the required skill needed for the corporate world.
Tag:6 months training, best 6 months industrial training, Best Training Company In Delhi Ncr, best training company in noida, Best Training Institute In Delhi, Best Training Institute In Noida, industrial, industrial training, industrial training in delhi ncr, SAS Training Company In Noida, Training