Meet the 13-year-old prodigy taking IBM and artificial intelligence by storm!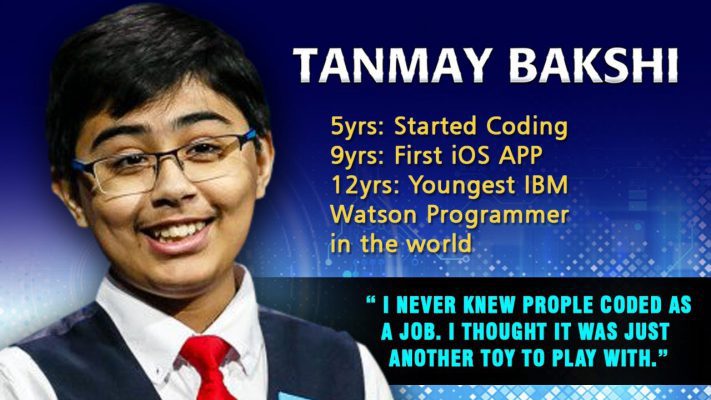 How about this for inspiration?
Tanmay Bakshi is a 13 year old, a programming prodigy, IBM Champion & IBM Honorary Cloud Advisor – Author- Hello Swift, Algorithmist, Watson & AI Developer, Keynote Speaker, and Youtuber!
The 13 year old 'Wonder Kid' started using computers at age five, introduced his first app at age nine, and since then has been working with IBM's Artificial Intelligence and cognitive APIs.
The Indian origin nerdy kid from Canada had no time to worry about completing his homework or playing cricket as he was busy trying to solve the healthcare problems being faced by a disabled girl. Tanmay Bakshi's father, Puneet is a software developer and his family moved from India to Canada, a year after Tanmay was born. At the age of five, Tanmay started coding in computer languages.  He said that he felt that computer as a toy and coding is like a game at that age.  He learned programming languages and practicing code continuously from that age.
Must Read: Languages to Learn to Get a Professional Job in IT Industry
After Bakshi moved into the world of programming, there was looking behind. When he was 8, he designed his first application. He had released his first IOS app, called 'tTables,' that helped kids learn multiplication tables at the age of nine.
At 12, Bakshi became IBM Watson's youngest programmer, even finding out a bug in the system. Soon after that, he launched YouTube video 'Tanmay Teaches' designed to teach budding coders the tricks of the trade. The channel has 22,000 subscriber base and 144 videos.  He teaches programming, computing, algorithms, science, maths, IBM Watson technology with the help of his videos.
Tanmay also admired Narendra Modi's 'Make in India' proposal. "India is already a place for emerging companies and start-ups, and various universities including IITs and other national institutes are now offering more practical based courses," Bakshi said.
At the time of revealing about his future goals, he said that he wants to gain more knowledge by attending tech conferences.  He said that he will focus on writing more books in future.
Worth appreciating.  Isn't it?