Key Success Factors For Effective IT Training Courses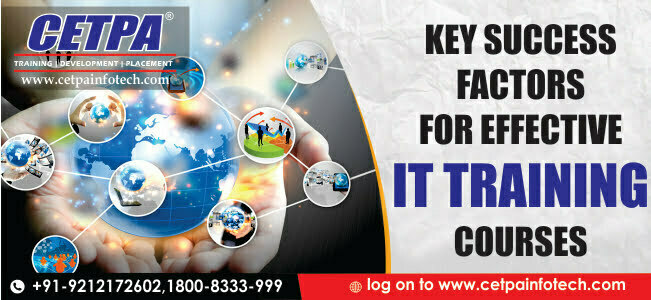 India has one of the largest education systems in the world, with lakhs of college-going students presently. Most of the common educational program that almost every student prefers today is engineering. Earlier; much more emphasis was placed on only theoretical knowledge in the case of engineering study without any focus on practical learning. However, this concept has completely changed. Nowadays it is important for engineering students to have industrial exposure before starting their careers. Here, comes the importance of It Training courses. Hence to excel in your career, you must join the IT Training Institute in Noida.
The main objective of Industrial Training courses is to expose the students to the actual working environment and boost their knowledge and skill from what they have learned in the college.  IT Training is viewed as an important strategy that exposes students to real work life and to equip them with the necessary skills so that they would be job-ready when they graduate.
Must Read: Know more about Industrial Training
5 Key Factors Necessary For Effective IT Training Courses:
IT Training courses should be designed in such a way that it bridges the gap between theoretical training and practical learning in a real-life environment.
IT Training Institute in Delhi NCR should provide hands-on experience on industrial operations to its learners and also make them aware of the functioning of any business and organization.
Industrial exposure offers the students the chance for learning experiences outside the classroom environment and also to work with industry professionals. It also broadens the outlook of students towards different workforces among various industries by alerting those regarding different rules and regulations as well as varieties of industrial practices.
Effective IT training courses should be able to enhance one's interpersonal skills and communication techniques.
One of the most important benefits you get from enrolling in IT courses is that you have already gained some work experience in the form of an internship that stands out to potential employers.
CETPA INFOTECH, an ISO 9001:2015 certified training company provides Best IT Training Course in Noida with the objective of fulfilling the gap between Industry requirement and level of a college education. It is one of the best IT Training Company in Noida which offers training in various cutting edge technologies.
For technical degree associated with IT fields such as B.Tech, B.sc, M.Sc. and M.tech, B.E, joining it training courses near me is the imperative part of the curriculum. CETPA, the best IT training center in Noida has especially designed these training programs to suit the necessity of industries and provide highly proficient professionals to the industry. IT Course in Noida that has become a vital part of the curriculum helps in transforming a student into a professional. Our team of expert trainers is continuously Leading, guiding, and training the students and professionals by providing them individual attention, which helps them to develop in-depth industry oriented knowledge. With more than 15 years of experience in providing training, we offer training in more than 300+ IT Courses.
If you want to enroll in effective IT courses, then join CETPA Infotech which provides the best IT Training courses like AWS Training, Advanced Java Certification, Microsoft Azure Training, etc in Noida also provides live project-based training in different cutting edge technologies along with placement services. After completion, of course, they provide 100% Job Placement assistance support; an ISO 9001: 2015 certified IT Training Company in Delhi NCR. 
Read More: Best 7 Leading SAS Training Company In Delhi NCR