Benefits of Undertaking Courses Like Dot Net, PHP, Salesforce, Oracle and C Language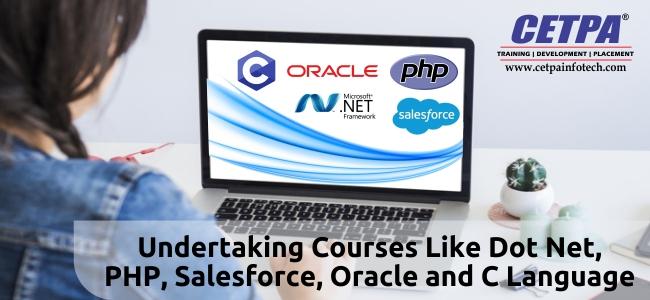 In the modern age, plenty of IT jobs require a solid grasp of programming language and in-depth understanding of technical advancement and changes. If you want to improve your career graph or need to transform your career completely, and you should understand that joining courses like dot net, PHP, Oracle can solve your problem, but you might question which one to learn and which course to join.
It is not simple to learn a IT Course, especially if you are a beginner; it demands time and money both. To master latest programming language, one can join IT Training. So, it becomes necessary here to decide on the best programming language that can assure a good career with attractive salaries. In this blog, we will discuss popular IT Courses that you should learn which makes you a demanding resource among other candidates.
C LANGUAGE
C is one of the mostly used and popular programming language which has influenced many languages which came after it especially C++ and Objective C. Knowledge of C will make learning of other languages easier. C gives you deeper understanding of how computer works. Beginners may find it difficult to grasp C in the initial stage as C takes more complex code to perform simple tasks. However, knowledge of C will definitely help as a programmer. Opting for C language online courses can give a new direction to your IT career since it is the universal language, basis for other programming language and developers who can use it proficiently are certain to find a well-paid job.
.NET
Opting for.NET Program is also one of the ways to kick-start your career in the technical field. Learning .NET is crucial since it lays down the foundation to become a software application professional and it also provides competitive knowledge to survive in the competitive world of IT.
PHP
PHP is used for web- development which can be implemented directly into HTML. It was created by Danish-Canadian programmer Rasmus Lerdorf in 1994. PHP tends to be a popular language since its easy-to use by beginners, but also offers loads of advanced features for more experienced programmers. By option for best PHP online training you can learn basics as well as advanced PHP concepts.
SALESFORCE
Salesforce is a cloud-based CRM (Customer Relationship Management) platform to bring customers and organizations together. It is the most needed CRM suite for small, medium, and large companies to handle all the departments like sales, marketing, customer service, etc.
Many businesses nowadays are using Salesforce for connecting with their clients, managing their records, and solving their difficulties quickly. Organizations like Amazon, Adidas, CEAT, HCL, Apollo Group, Intel, etc. use the Salesforce platform. Therefore, the demand for Salesforce experts including Salesforce developers and administrators is growing day by day, join online Salesforce training program and improve your skills.
ORACLE
Oracle certifications are proven credentials acknowledged by the industry that can help one to win in their IT career. Oracle is the world's largest enterprise software company and to obtain the Oracle certification from this organization is an excellent credit to one's career. Mastering Oracle is not only profitable for fresher's but also for experienced people since it helps them to stay up to date on new technologies and tools.
CONCLUSION
It is worth remembering that the IT market is very dynamic and it is constantly changing. For those who are just beginning their journey with the IT industry, it is recommended to start with the most popular courses such as Oracle, C language, PHP and so on and successively you can add other courses which knowledge will make it easier for you to find your dream job.