Which Oracle Certification is Best for Fresher?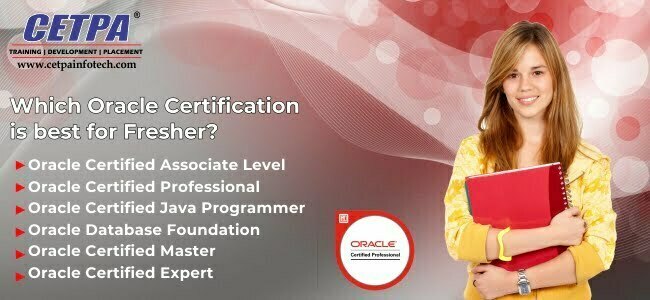 Oracle is as a RDBMS Oracle (Relational Database Management System). It is basically used for online transactions, data warehousing and data workloads. Oracle is set of applications and business intelligence tools which is used for development and operating systems. Oracle is the object oriented, flexible and cost effective for managing the information and applications. Oracle is utilization of SQL queries. Oracle is created and marketed by Oracle Corporation. It is also helps for managing the local and wide area network.
 6 Oracle Certifications are:
Oracle Certified Associate Level
Oracle Certified Professional
Oracle Certified Java Programmer
Oracle Database Foundation
Oracle Certified Master
Oracle Certified Expert
The Best Oracle Certification for Fresher is Oracle Certified Associate Level. This certification will help to work on a Junior database management in a team. In Oracle Certified Associate level, you have to learn Machine Learning, Business Intelligence and IOT. This Certification helps to grow I the career and get better job opportunities. It also helps to increase better ROI with increase in performance.
This Certification will help to build a successful career in IT field. The Oracle Certified Associate level course must have skills and knowledge of Unix Operating system utilities and commands. Oracle Certified Associate has the candidate have good verbal and written communication. Oracle Certified Associate give the learning that how to install and uninstall the Solaris packages. It will also help how to configure the network interfaces. It will also help to learn management of file systems and local disks devices.
Oracle Online Training is helps to get the knowledge of implementation of products and technology. Oracle Online Training for fresher must have the knowledge of SQL. Oracle Online Training is help to learn interpersonal skills and problem solving skills. Oracle Online Training will provide the knowledge of complete oracle concepts, advanced concepts of RDBMS and how to write complex SQL queries. The fresher in Oracle Online Training must have the capability of Team Coordination. Oracle Online Training will provide that how to manage the database and how to track the development o database.
Oracle Online Course must give the understanding of Operating Systems, Computer Architecture and Database Structures. Oracle Online Course is for fresher as well as professional's students. Oracle Online Course help the uses of DML, DDL, DCL and TCL statements. Oracle Online Course give the ability to handle the project independently. Oracle Online Course is help for design, mining and administration of data. It will also provide the security for storing of data. Oracle Online Training will enhance the thinking capability of the students. It also gives the knowledge about architecture, security and back up recovery of the data. Oracle Online Training will help for work in the changing and technological environment.
Oracle is highly used in IT industries. The main purpose of using Oracle Software in companies is to store and retrieve the information. Oracle Database helps the businesses to upgrade their systems.
Must Read: How Oracle Is Going To Change Your Business strategies
In Today's Era, the usage of internet is increase and all work is done through Online medium and the volume of data is increases. So, for managing the data the companies need Oracle database administrator. Oracle is used in different sectors like Education, Health, Retail, Financial Services, Hospitality and many more. The various job opportunities after completing the Oracle Certified Associate Course Are Computer Programmer, System Engineer, Database Administrator, Information Technology Architect, etc. The companies which are using Oracle are Microsoft, IBM, Oracle Corporation, etc.