Why An Effective PHP Language Course Is Essential for Career Growth?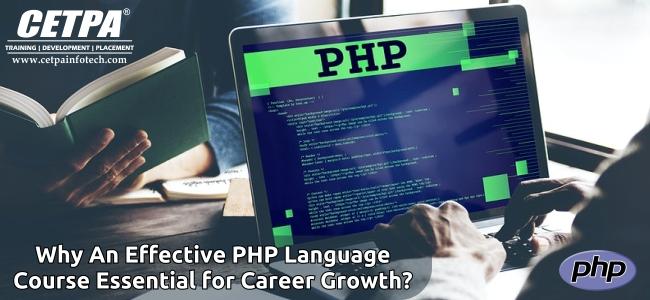 If you want to learn how to use PHP in developing Web applications, you may consider joining PHP online course or traditional classroom training to help you. There can be several factors in the decision to master PHP online or to take a class in-person, and for some, this can be a challenging decision to make.
For students who have never join any online course, signing up can be a little intimidating. Most of us are used to the traditional course model, where we go to a classroom and learn in person from trainers.
Of course, online courses usually don't have fixed class times, in-person meetups with classmates, or a limited course selection. But what they lack in traditional structure they make up more than by offering advantages that would be challenging in a standard classroom. Showing students the benefits of an online course can influence even the most hesitant learner. Hence, in this blog, we will discuss how learning PHP online will help you.
Online PHP Training is Mobile and Flexible
For students who have a fixed schedule traveling to the training institute can be a deal-breaker. This is particularly true for students who are also trying to balance the demands of work and family life. But online course opportunities have the flexibility to adjust to any schedule.
Whether learners are taking courses on the go, in the morning before work, over their lunch break, or after dinner online courses can fill in the gap.
More Affordable
Another benefit PHP online training usually have come with their more economical price tag. This isn't because the education is cheaper—rather, it comes with fewer of the institutional cost of a larger, brick-and-mortar institution.
Students across the country are searching for ways to advance their employment qualifications without taking student debt. Online courses are fulfilling this gap with more affordable education offers.
Online Training Reach a Global Audience
Talking of global reach, online education can set learners in touch with classmates throughout the globe. This extent of experiences supplements to the learning environment for all students, by putting them in touch with various ways learners manage situations in their own countries. With added experiences to draw from, learners obtain a new richness and intensity to their knowledge that they might not have gained otherwise.
Online PHP Training Advance Your Careers
Several learners turn to online course opportunities as a means of advancing their careers. Many jobs have particular demands or opportunities for professional certification that are tailored to their industry. These certifications are normally not given at universities or community colleges, which can seldom make them hard to achieve unless the company has an employee development program.
Nevertheless, for learners who aspire to get these certifications separately, online courses make it feasible for them to earn these professional certifications during off-hours.
Experimental and Innovative
Online PHP courses usually have to compensate for the absence of a regular classroom by relying on new technology. This, in turn, opens up new ways for educators to explore the ways they can teach courses. From inventive course assignments to innovative technologies such as AR and VR, online education is transforming how learning occurs. And much of this is because online courses don't give the limitations of regular classrooms.
Read More: Advanced PHP Tips And Tricks To Become Expert PHP Developer
Conclusion:
If you want to go for PHP online training Course, then CETPA, an ISO 9001:2015 certified training company is the best option. Our teams of well experienced and qualified trainers are easily approachable. We provide quality and cost-effective training in different high-end technologies. We do our best to provide the best learning experience to the candidates. Other benefits include:
Knowledge of latest technological advancement in PHP
100% Placement Assistance
Training & project certification
Professional &Experienced Trainers
More practical Session
Doubt Session Class
Resume making & PD sessions
6 months Membership Card