Benefits Of PHP Certification Over Other Programming Languages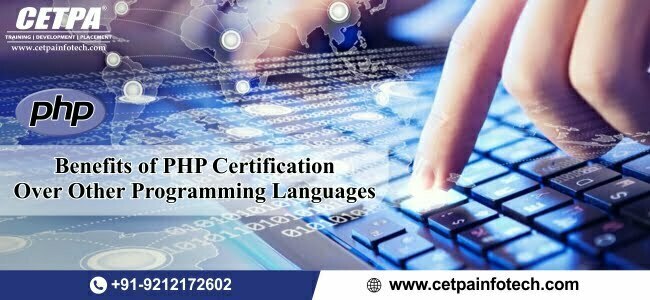 Do you know why so many people want to hire PHP Developers these days? It is because of the high demand for PHP based websites on the internet. In the last couple of decades, the internet has changed entirely how we live, communicate, and obtain information. These days most of us rely on websites and the internet to get most of the information. Websites are also getting more and more advanced to fulfill the increasing demand for people to access information from websites. Developers mostly utilize PHP or ASP.NET to create modern-day dynamic websites but PHP has more than 80% of market share in all of the websites running on the internet today. PHP is a server-side open-source scripting language and it is simple to read, understand, and write code in PHP for modern-day websites. For this, you need to enroll for PHP certification course.
Let's discuss why PHP Certification is better than other programming languages:
OPEN SOURCE
One of the biggest benefits of PHP is it is open-source, which means it is readily used and absolutely free to use. This makes it an excellent programming language for specialists to implement cutting-edge open source development solutions. The fact that it is easy to use & learn there's a large community of developers working on making PHP better and better.
COST-EFFICIENT
PHP is also preferred for the fact that it is cost-effective in nature. As it is open-source it is free of cost. You don't have to buy additional expensive software for it. It is equipped with a number of open-source integrated development options, making it further cost-effective.  It helps you develop your website at a minimal cost. There are no restrictions, licenses, or royalty fees involved at all. If you want to learn PHP, you can enroll in the PHP online training Course.
SCALABILITY
It is the quality that allows your application or website to grow as the traffic increases. In literal terms, your portal can manage as much traffic as it receives. The way PHP is created it can let you increase your cluster size simultaneous to your growth by adding more servers. The capability of PHP supporting all major web browsers makes it even more scalable.
SPEED
Another thing that makes PHP a favorable choice of developers and customers is the speed. It uses its own memory so that workload and loading time both are reduced automatically. Hence the outcome is much faster-processing speed.
SECURITY
A common notion about PHP is that it is not secure. Some even think that way because it is open-source. But that's not true at all. It is also true that it is not 'threat-proof' but that doesn't make it especially prone to any web attacks.PHP is as vulnerable as any other programming language. The security of the job done neither depend on the language, nor it depends on the tools that are used. It depends upon the people who are using those tools, even the best of the tools can be misused and a result can prove to be harmful.
THE BOTTOM LINE
The above given are some of the advantages of using PHP in web development. It is beneficial for you to use it in your next web development services project. Therefore beginners should take up proper Best PHP online Courses for learning PHP programming language to get a good head-start in their career.