Career Scope After Successfully Completing Verilog HDL Training Course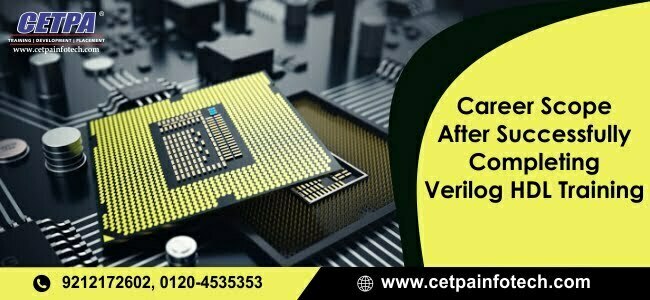 An Introduction To Verilog HDL 
Verilog is a hardware description language (HDL) that is used by designers to design and document electronic systems. An HDL is similar to a programming language but is not the same. It is used to design computer chips processors, CPUs, motherboards, and similar digital circuitry. Verilog is the most widely used HDL with more than 50,000 active designers using it for designing at various levels of abstraction.
Verilog HDL Training
Verilog is a popular hardware description language which is used to model digital systems. Verilog Training Course in Noida will offer in-depth knowledge for design and verification of digital chips at register transfer level (RTL). It will make you familiar with developing a Verilog RTL, using both behavioral and structural modeling and writing a test bench for the same.
Why Join Verilog HDL Training?
Verilog hardware description language is one of the must have language for ASIC/FPGA design and verification engineers.
To generate gate level netlist with synthesis and to simulate the design before fabrication of physical IC, you should have sound knowledge of Verilog for which you can join Verilog HDL Course in Delhi.
Who Can Join Verilog HDL Training?
M.Tech and B.Tech engineers want to make career in front end VLSI with synthesis and verification, need to be excellent in Verilog HDL.
What Will You Cover In Verilog HDL Training?
Introduction
Lexical conventions
Data types and Operators
All types of Modeling
Memories
FSM
UDP
Task and Function
System Task
Timing delays and Checks
File Handling
Job Opportunities After Verilog HDL Training
There are many job opportunities in the semiconductor industries. To correctly align your career aims and your training you require to have a more solid understanding of the job profiles and job titles and that a career in Verilog HDL has to provide. More importantly, you should know about your strengths and personal attributes and choose the right job accordingly. Let us look at the various job opportunities and designations in the Verilog HDL industry.
Design Engineer
Verification Engineer
Application Engineer
Is Verilog HDL A Good Career?
Verilog HDL is the highly technical and completely based on electronics engineering. Normally,learners with a background in electronics engineering can enter into semiconductor industries since it needs a  BE/B.Tech/BS in ECE/EEE as a necessary qualification. But, Computer Science/IT engineers can also go for some particular jobs, with robust knowledge of digital fundamentals and software programming. It is a profitable domain that is automation-resistant.
Scope For Verilog HDL Training
Those who are interested to know more about chips and their functioning can do so by learning Verilog. It helps prepare students for a career in Verilog & VLSI. Verilog HDL is regarded as the standard hardware description language for producing the digital integrated circuits designs. Learners in the Verilog HDL domain have tremendous scope for growth around the globe.
Must Read Now: How To Get Enrolled For VLSI Training In 2020