How Oracle Is Going To Change Your Business strategies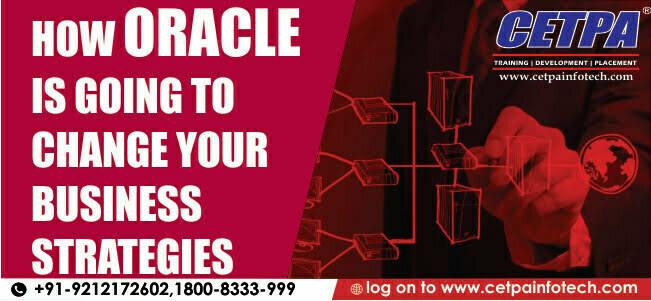 Oracle has numerous characteristics that make it successful in the business world. Latest versions of Oracle databases are released with innovative and enhanced features equipped for businesses and corporations. Within the software market, Oracle has taken a front role due to its endurance to provide the perfect databases.
You can obtain the competitive advantage by developing the skill set that are currently in demand globally.
Join the 80% of Oracle certification holders who reported a promotion, salary increase or other career improvements.
Obtain Oracle international certification you can add to your social media profiles
5 Advantages Associated with using Oracle; some of them are given below:
Customer Satisfaction:           
One of the benefits of using Oracle databases is due to Oracles belief in customer satisfaction. For instance, all Oracle databases are backward compatible. This permits businesses to enhance their systems without the full overhaul of their database system. This provides effective and low-cost updates.
Reliability:
Another major advantage offered by Oracle databases is their reliability. Oracle is a database that gives excellent performance when confronted with demanding tasks. The ACID test, which is a significant tool used to ensure the integrity of data stored, was easily passed by Oracle databases.
Multiple Database Support:
Oracle has the better capability to handle multiple databases within the same transaction using a two-phase commit protocol. This is best implemented in V7.
Improved Performance:
Apart from the batch processing of transactions, Oracle provides other methods of developing your database's performance. You can use various servers to work on the same database with the Real Application Cluster feature. This can significantly improve your processing power for only the cost of an additional server.
Versatility:
Oracle SQL gives you the flexibility of selecting to run your database in the operating system. Dedicated languages are the only compatible with operating systems from the same manufacturer. 
WHY CETPA FOR ORACLE TRAINING
If you are also an Engineer and wants to learn ORACLE or looking for the ways to polish your technical skills or searching for the new job, then join CETPA INFOTECH, The best ORACLE Training Institute in Noida. The company will provide you training as well as placement service. CETPA is the official training partner of big brands like Microsoft, Oracle, Panasonic, Autodesk and many more, so you will be getting the international certificate after completion of your training.
Must Read Now: Key Success Factors For Effective IT Training Courses