How to Become a UI Designer in 2022? –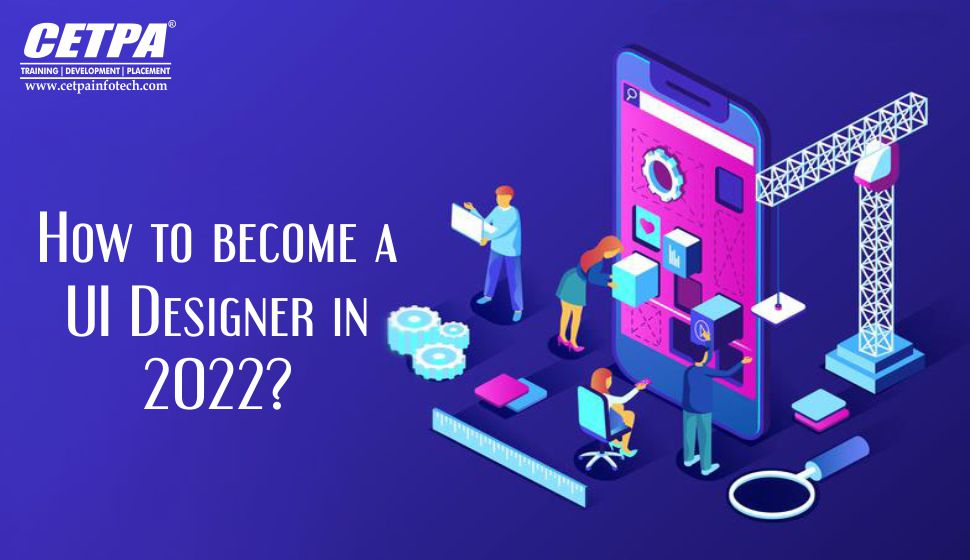 Here, in this blog, we are going to discuss about UI Designing. What are the skills require to become a UI Designer? From where, you can get the best UI Designing Training in Noida?
The User Interface, often known as UI I short, is the area where communication between humans and machines takes place. I is a vital attribute of User Experience (UX) which consists of two key features: Visual Design and Interaction Design. While the former expresses the look and feel of a product, the latter is the operational and logical constitution of elements. The purpose of User Interface Design is to establish a user interface that makes it easy, efficient, and enjoyable for users to communicate with a product.
UI design highlights the user's Visual Experience. A worthy user interface is operational, consistent, and gratifying to use. The UI design should reduce the labor that the user has to invest while communicating with a product, thus assisting users in accomplishing their goals effortlessly. 
Designers use techniques of user-centered design, viz. user interviews, direct observations, and so forth. In order to understand their target audience and to safeguard that the visual language they usher in the UI is customized well, to them. It is essential to make the UI appealingly gratifying. The reason being that the interfaces that have immense appeal are considered to be more practical by end-users, as per the aesthetic–usability effect.
How to Become a UI Designer in 2022 
Practically, it is well known that to become a professional in any technology, the most important thing is to get trained and enhance one's skills in the technology. The same lies true for UI Design as well. UI Designing Training in Noida can open doors toward success in this field. Now, let us have a look at the various skills that will turn one into a successful UI Designer:
Develop your UI Skills By Taking UI Designing Training

As mentioned above, every technology requires learning, enhancing one's skills, and upgradation of the existing ones. The same persists to be true for the continuous evolution of User Interface. However, there is an invariable need for the fundamental skills every UI designer must hold.
 Cognition of UI Design Software: It is known that the designer tools for UI/UX keep changing constantly. However, some early tools remain ceaseless, like Adobe Photoshop, Figma, and Invasion. The Project Based Training in Noida assists you in deep cognition of how the above-mentioned software are used as design tools. 
 Creating one's UI Designer Portfolio: Once a candidate is through with the training process and has ascertained their skills, they have a few UI designs as examples that they can include in their resumes. This adds weight to their resumes and easily accessible to recruiters. 
Online resumes also provide one the opportunity to change and refashion their resumes strongly. Moreover, it allow potential employers to continually appreciate one's most current work and designs. Once the profile with the latest designs and fresh concepts is ready, one can begin to apply for jobs in the new arena. 
Apply for Jobs as a UI Designer:
Jobs for UI Designers are selling like hotcakes; the reason being, playing a critical role in the progression of user experience. Recruiters often look for coding or UI boot camp attendance and experience. Since UI design boot camps are short, immersive, and updated constantly. So, their curriculum manifests the needs of employers, recruiters embrace boot camp learners with appreciation.
Conclusion
 It is evident from the above description that UI Designing is a highly admired and in-demand technology that establishes a user interface with the product while highlighting the user's visual experience. Many organizations have opted for the technology and hence require concerned Designers. CETPA Infotech provides training in this technology and turns candidates into professionals with meticulous training. The hard work of the candidates brightens up their careers. Therefore, to become proficient in this field, do join the UI Designing Training in Noida.