The Secret to Choosing The Best Oracle DBA Certification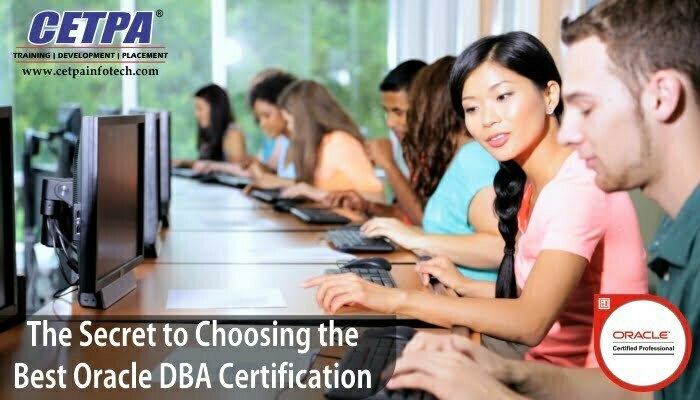 Are you one of them who wants to make use of the Oracle database or want to learn it to solve the business problems as a professional? Then this article is for you, keep scrolling down to know more about the benefits of DBA certification. Also, we will discuss the best Oracle DBA certification courses to help you choose the relevant one. 
There is no denying that the database management system plays a crucial role to make the workflow smoother and ceaseless. These systems reduce the huge amount of effort by providing amazing functionalities to deal with huge data. 
Today, no big business can be operated without a database system. Hence, here we are going to unveil some sneaked perks of choosing the database in business. 
When it comes to naming the best database management systems, the Oracle DBA comes first in mind and there are many good reasons behind it. 
This article will cover career options by learning database management and its usage in the business. 
In this ever-evolving domain, keeping yourself updated with new technologies is vital to keep business surviving. Oracle database is one of such tools that you should know whether you are a business person or an IT aspirant. 

The first benefit of having Oracle DBA is it reduces the cost in several fields by offering great solutions to managing data effortlessly. Talking about the performance then it is amazingly great even with the large databases. 

This doesn't only reduce the cost but also makes business workflow faster resulting in more productivity. 

Need for the database Professional

We know that databases are not going anywhere, they are imperative in today's world. Though the technologies to manage the databases might be replaced, database management is ever-lasting. Whether it is the IT or Non-IT sector, skilled database professionals are in demand. 
Starting a career as a database management developer is not as hard as stone. By taking Oracle Training Course In Noida, you can perceive the concepts of database management and start the career further. 
By earning DBA certification you can start with the following careers; 
Database administrator
Developer
Implementers
Database Administrator:
The database administrator's role is to store and manage critical data of the company.  They are an important part of the organization that helps in making strategic business plans by analyzing data using database management systems.
Database Developer:
Being a database developer you would have to develop and create databases for the clients or organization. This work includes more programming skills, moreover, skilled database developer is required to have analytical and problem-solving aptitudes. 
To become a database developer you need to have awareness of skills such as SQL, Java, database design, and many more. 
Database Implementers:
As the name suggests, a database implementers' role is to install or implement the database system to the system by using his/her technical skills.
Though all the above-mentioned experts are considered database engineers, they work differently. While developers are more focused on programming while other roles require technical knowledge but more analytical skills. 
As far as certifications in the Oracle database category are concerned, you can get one comfortably by enrolling in Oracle Training Course In Noida. Though it has been an arguable topic whether one should go for a training program or not. But, one thing is sure, the certification program gives you the edge over competitors who are vying for the same job role. 
Here you should keep in mind that in the DB category you can obtain various certifications keeping in mind your knowledge in the database management system. For example; if you are familiar with the database concepts, it is advisable you take the OCA certification (it is an entry-level certification). 
With the certification, you can start working as an entry-level team member in database management. 
If you are an intermediate then another certification course OCP that stands for Oracle certified professional. With this course, you will be taught how to manage databases and develop large applications based on the database. 
By knowing your command on databases you can go for the preferred certification courses in steps to get a job or gain in-depth knowledge of databases to work at top-rated companies. Whatever your reason is, CETPA being Best Oracle Training Institute In Noida, is a leading platform to attain the certification. 
Conclusion
Hope you would find this article helpful. We have tried to cover up major certification courses and the role of the Oracle database in business. Whether you are a student or a professional, having a tag of a certified professional gives the edge over the millions of other aspirants without certification for the same career option. 
Technology has entered almost every sector and from medium to large businesses are leveraging the potential of the database in steps to maintain, track, analyze the company's operations with ease.