Think To Master In Sap Hana? Here Are Some Major Key Points For You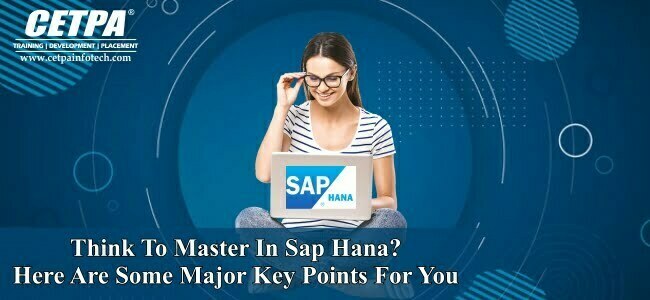 WHAT IS SAP HANA?
SAP HANA is an on-premise application that handles real-time insights that comprise of latest hardware abilities and memory-centric database which provide a high-performance engine to prepare and store data. SAP HANA offers services that satisfy the specifications plus improve the productivity of the company. SAP HANA is a mature enterprise solution with enhanced capabilities like simplifying IT, innovate modern applications, and accelerate insights to run mission-critical business methods.
WHY SAP HANA?
To run a business successfully, it is essential to understand the advanced technologies that can be using the S4 HANA module. Therefore, implementing this module in a business can bring a lot of benefits to help you to grow at a high pace. Designed with great innovation, an advanced SAP HANA Training and Development module helps in connecting an enterprise or organization with business networks, customers, big data, the internet of things, and much more in real-time. By delivering IT efficiency, this technology is responsible for lowering costs. It makes it possible for a company to run a live business in an enterprise.
SAP HANA TRAINING
SAP online Course provides you the opportunity to learn about the SAP HANA Studio, features, security essentials, modeling, and administration aspects so as to obtain complete mastery of this analytical and transactional data processing tool. This training program is usually suitable for:
This course can be taken by anyone that wants to boost their SAP knowledge. SAP Key users, consultants, and support staff would benefit from this program.
Anyone that wants to improve their knowledge of S/4 HANA
Anyone that is part of an S/4 HANA project
Anyone who wants to enter this domain.
WHAT WILL YOU LEARN?
By enrolling in the SAP Training class in Noida you will learn about the following things about SAP HANA which will be beneficial for you to obtain SAP HANA certification.
 The basic essentials of SAP HANA technology
 Installation and configuration of SAP HANA
 HANA client, connectivity, and interface
 Auto documentation in SAP HANA
 User management and storage solutions
 SAP Business Objects analysis
 HANA performance tuning and queries
Also Read: How To Choose The Best SAP Online Training & Certification Course?
CONCLUSION: WHY MASTER SAP HANA BY JOINING CETPA?
SAP HANA is one of the popular trends in the job market as the in-memory architecture and performance of SAP HANA has already drawn the attention of fortune 500 companies leading to a drastic change in the growth curve of installing and implementing HANA thus, there is a high demand for certified HANA consultants.
Most successful organizations executing SAP HANA are Mercedes-AMG, Vodafone, Asian Paints, Colgate Palmolive, EMC, eBay, Accenture, Coca-Cola, Unilever, SanDisk, Lenovo, Infosys, Cisco, and many more need HANA experts. As a result, the companies would need certified SAP consultants with niche skills who can adjust and get the platform going. There are different job profiles for HANA consultants and the most popular ones on demand are SAP HANA Modeler, SAP HANA Consultant, SAP HANA Cloud Experts, and SAP HANA DB Admin. As the demand is more and the number of good HANA resources is relatively very less, the pay scale of a certified SAP HANA expert is 15 to 40 percent more than an average IT Salary.
If you want to go for SAP online Course, then CETPA, an ISO 9001:2015 certified training company is the best option. Our teams of well experienced and qualified trainers are easily approachable. We provide quality and cost-effective training in different high-end technologies.
We do our best to provide the best learning experience to the candidates.