Why PHP Certification Is Effective For Better Career Option?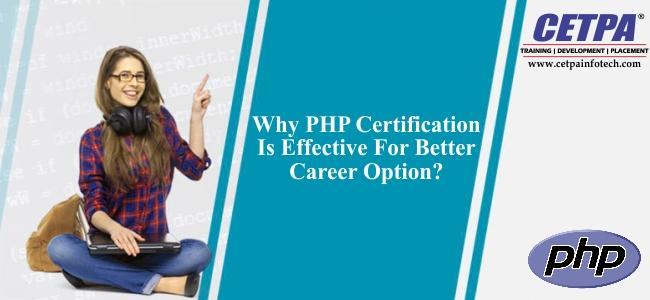 Want to learn more about web marketing and web building technology? Website designing and web developing have several opportunities for candidates who are willing to get the exposure they like. So if you wish to become a developer, obtaining PHP Certification is indeed necessary. In fact, it is one of the best way that allow you to make a better career plan. This is because once you undergo a certified PHP online training program; you can create room for multiple job opportunities which will give you the best outcome. Hence, obtaining the right PHP Certification is crucial.
To help you more, we will discuss the importance of PHP certification and training in this post.
WHY PHP?
From web development to designing and from data management to MySQL, you need to go through a web language for better understanding. PHP is one such dynamic web language that can help you to get through all of these without any issues at all. So you need to learn the way things work if you wish to become a developer. PHP is the basic developing language for most of the websites and applications. Since it is dynamic and vast, there are many ways for you to use such a web language. So choosing the PHP online training program from a reliable Institution is a very important aspect for you to take a step for a career.
ONLINE PHP TRAINING & CERTIFICATION
PHP Training and certification are all about getting knowledge and education from a reliable institute. You can find many programs online and also in your locality, but just getting a course from any random institute will not serve your cause. To get the best results, you need to undergo a training program that gives you proper certifications. With the help of proper certifications, you will be acknowledged throughout the industry as a professional. So even if you wish to work as a full-time candidate or as a freelancer, having a PHP certification is crucial for you.
Read More:Benefits Of PHP Certification Over Other Programming Languages
PHP TRAINING AT CETPA
If you want to go for best PHP training, then CETPA, an ISO 9001:2015 certified training company is the best option. Our teams of well experienced and qualified trainers are easily approachable. We provide quality and cost-effective training in different high-end technologies.
We do our best to provide the best learning experience to the candidates. Other benefits include:
Knowledge of latest technological advancement in PHP
100% Placement Assistance
Training & project certification
Professional & Experienced Trainers
More practical Session
Doubt Session Class
Resume making & PD sessions
6 months Membership Card