Catia vs Solidworks: Which One Should You Pick?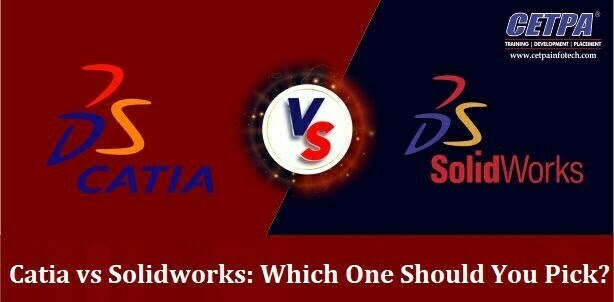 It's hard to deny that the world of CAD modeling seems somewhat unfamiliar and isn't really discussed often. This particular domain of the tech sector is strange and confined to only some professionals. But we ought to discuss it at some point, right?
Especially if you've just entered the market, it's exceptionally crucial for you to determine which CAD software you should pick. In this article, we are going to discuss Catia and Solidworks– two of the most popular CAD software that are currently available in the market.
Let's begin with, what is Catia?
Catia is essentially a Product Lifecycle Management (PLM) software which implies that its primary role is to manage data while the product development takes place. This way, the productivity, as well as the workflow, get enhanced drastically as many people focus on a particular task.
This 3D modeling software also allows tracing all the changes that are made to a particular product during its development. Catia is also considered as an exceptionally powerful 3D modeling software. Consequently, it is dominating the automotive, aerospace, and aeronautics industries as of this moment.
Catia is specifically designed for engineers and software professionals who work in large organizations. It comes with an impressive set of tools that can be used as per the company's requirements. From designing aircraft and cars to various other complex structures, Catia can do it all. It was released in the year 1977 and is now owned by Dassault Systems. Moreover, our online Catia training course includes basic as well as advanced concepts of Catia.
What is Solidworks?
SolidWorks is defined as a parametric 3D modeling software that operates on dimension value. So, this means that when dimensions are changed, the 3D models also modify their shape. It includes powerful tools like simulation, which allow the developer to draw with the help of parts and assemblies, etc.
Launched in 1995, SolidWorks is also owned by Dassault Systems and is in high demand, especially in medical, education, machinery, as well as product design industries.
So How Are They Different From Each Other?
● Let's take a look at designing a car. If a developer wants to design certain parts of the car, SolidWorks is the best option. But if one has to develop the whole car, then Catia would be the better option. Sure, you can design the entire car with the help of Solidworks as well, but the process wouldn't be as effective and efficient because of its parametric features.
● SolidWorks comes with a wider range of features, including photo-realistic visualizations, fluid simulations, as well as electrical design solutions. On the other hand, Catia offers customized programs for various industries.
Also Read: Why Industry Exposure Is Required For Every Engineering Student?
● Although Catia is ideally meant for large organizations, it has a steep learning curve. So, it will only be fruitful for long-term purposes. SolidWorks is an excellent starting point for engineers to learn CAD Software as it is very friendly, easy to learn, and perfect for educational purposes.
● To put it simply, which one you should pick depends on your goals and objectives. So, first, you need to set your aim right and then pick which of these CAD software suits you best.
However, it's safe to say that both of these options are going to benefit you equally. CETPA is offering training programs for both of these CAD software. Our online Solidworks training program covers all the important concepts of Solidworks.
CETPA is the best Catia training institute in Noida. So we will provide you with the finest Catia training, which is cost and time-friendly.
Hope this helps,
Have a great day!