What Are Pros Of AWS Cloud Computing?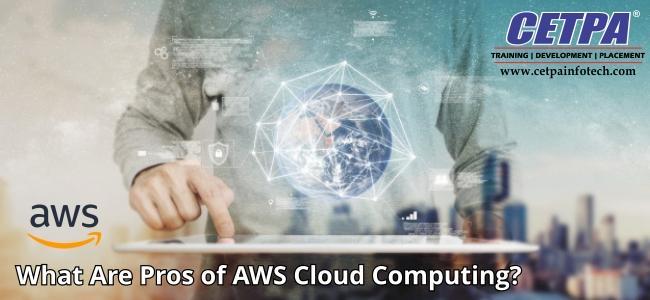 Amazon Web Service (AWS) is a popular cloud services platform built by Amazon Inc. AWS was developed to help companies and businesses of all sizes to grow and scale rapidly and affordably.
AWS has become the chosen cloud service platform by various major corporations – which include Major League Baseball, Pinterest, and General Electric.
AWS plays an important role in cloud services industry. AWS is a secure Cloud Computing platform to individuals, companies and government. AWS main work is to build complex systems for managing infrastructure over time. AWS is the combination of Infrastructure as a Service (IaaS), Platform as a Service (PaaS) and Software as a Service (SaaS). AWS helps the companies for creating the complete infrastructure. AWS is used as to easy access the data, highly secured and cost effective.
AWS also provides security certifications, hardware security modules and data encryption so that corporations can manage their businesses more securely. In addition, AWS provides auditing and controlling capabilities helping companies meet compliance and regulatory standards. In this post, we will discuss the advantages of using AWS.
WHY AWS?
The cloud computing business has become extremely competitive. AWS has been and remains to be the main cloud services provider with a consistent stream of the latest platform, infrastructure, and service offerings. AWS provides flexible computing power and can be customized as per the demands of your company.
Having been leading into the space, AWS offers the most extensive variety of solutions and services – approximately a hundred of them – far ahead of their opponents. Thus, Companies while hiring prefer individuals with AWS certification Online training course to obtain a competitive advantage over others.
BENEFITS OF AWS
Flexibility
One of the major reasons to move your business on AWS cloud provider is the flexibility that it offers. It can do everything according to your needs, and it includes everything, for instance, the operating system, programming language, application platform, and many other services you need.
Cost-effective
The AWS cloud computing platform works on the PAYG model. That means you don't have to pay for the services you use every time you use them. You can buy it once and then renew the subscription when it is needed. Also, the cost of on-site infrastructure is saved.
Reliability
When it comes to online tools, reliability is the fundamental question for most of us. AWS is a reliable option for all your business needs making it just the best and secure global computing infrastructure.
Scalability
The Amazon S3's auto-scaling and elastic load balancing (ELB) come together to scale up your applications as per demands and, in turn, improve the performance on-demand.
Security
Yet another fundamental problem with many modern-day web apps. AWS changes it all with its end to end approach to secure the infrastructure from all sides: be it physical, operational, or software wise.
Productivity
Productivity is another important advantage that AWS offers. Once you start using AWS for all-day IT operations, to minimize the risk associated with housing an internal IT infrastructure. It also saves the costs and time required in hiring the support staff and the resources spent in maintaining the in-house IT infrastructure.
Read More: 10 Reasons You Need To Start Online AWS Training
TO SUM UP
AWS is gaining popularity over the years, and the above benefits justify it well for what it is. Everything with AWS is about improving productivity, providing a convenient user interface for the smooth working of your company on the cloud.